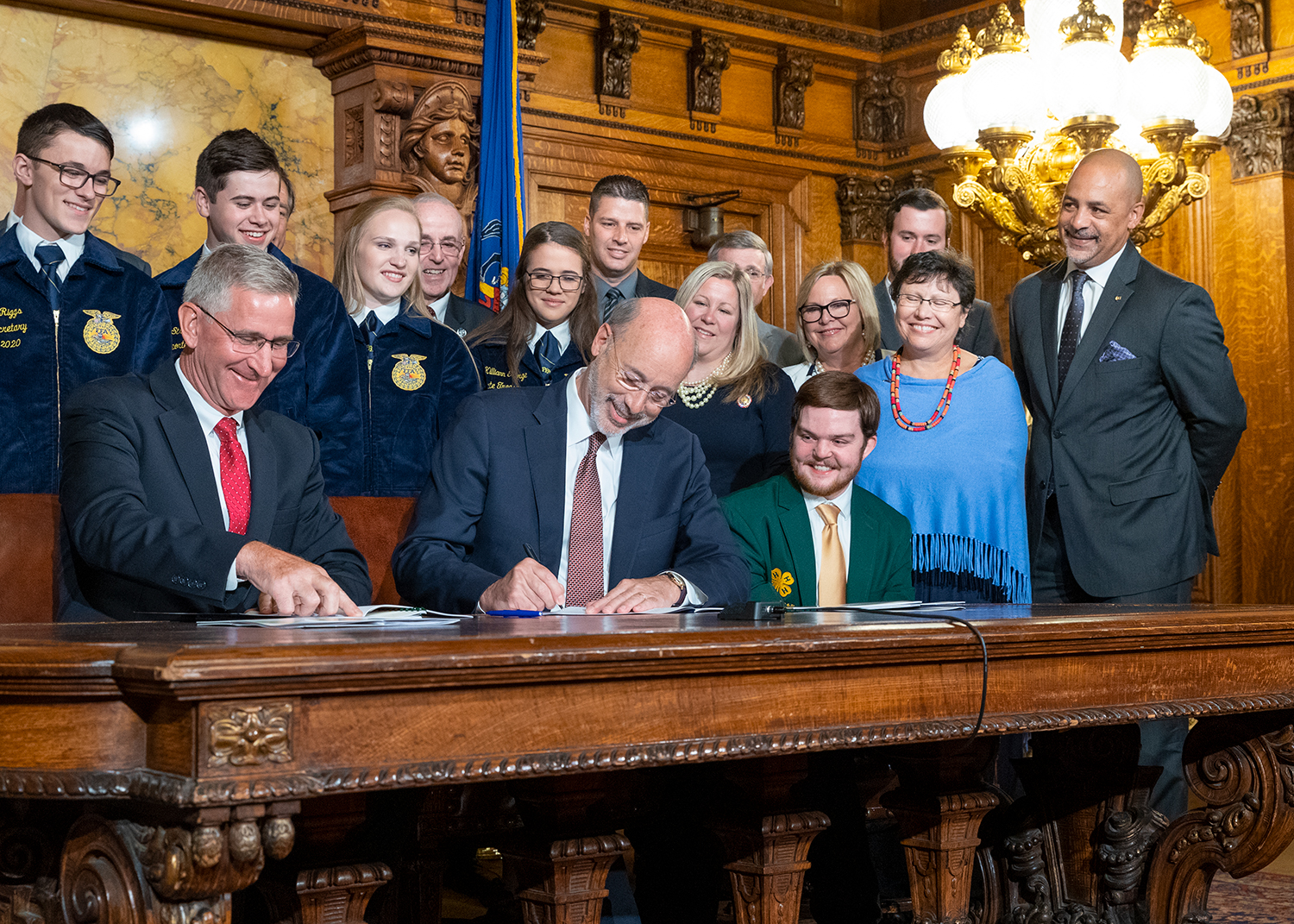 See all the Farming First bills here.
HARRISBURG – A broad package of bills to support Pennsylvania agriculture and encourage new generations of farmers to continue the state's rich farming heritage were signed by the Governor, including several measures introduced and supported by Senator Judy Ward (R-30).
Ward sponsored Senate Bill 661, which would create four new programs to support the agriculture community – the Agricultural Business Development Center, Agriculture and Youth Development Grants (SB 660, Ward), the Urban Agriculture Infrastructure Grant Program, and the Commonwealth Specialty Crop Block Grant Program.
"Agriculture is one of the most important industries in the state, and it helps drive our local economy. That is why we need to listen to the most serious concerns of farmers and take action where we can to help," Ward said. "Both of my bills will help promote Pennsylvania agricultural operations and promote agriculture for future generations of farmers. Along with the rest of the bills in the package, we have taken some extremely positive steps to help current and future generations of farmers."
Other bills in the package include
SB 478, which would establish a tax credit program for landowners to lease or sell farmland to future generations of farmers.
SB 585, which would create the Pennsylvania Dairy Future Commission to review and make recommendations to promote and strengthen the Commonwealth's dairy industry.
SB 338, which would update Pennsylvania's Vehicle Code to allow the transportation of farm equipment that exceeds the current width allowable by law.
SB 634, which would create the Conservation Excellence Grant Program to provide technical and financial assistance for agricultural operations to implement conservation best management practices.
HB 370, which would amend the Agricultural Area Security Law to allow farmers more discretion regarding the construction and subdivision of residences on preserved farmland.
HB 1514, which would renames the current Healthy Farms Healthy Schools program as the Farm-to-School Program and make improvements to the program.
HB 1516, which would create the Agriculture Rapid Response Disaster Readiness program to respond to diseases, pests, invasive species, declared disasters and other threats to the agriculture industry.
HB 1520, which would create the Very Small Meat Processor Federal Inspection Reimbursement Grant Program to help these businesses comply with federal inspection standards.
HB 1526, which would revise the Agriculture Linked Investment Program for the implementation of agricultural and conservation best management practices.
HB 1590, which would establish the existing Dairy Investment Program in state law to support research and development, transition to organic, marketing projects and value-added process projects in the dairy industry.
CONTACT: Cheryl Schriner (717) 787-5490