The Week Ahead in the PA Senate
The week of November 18, 2019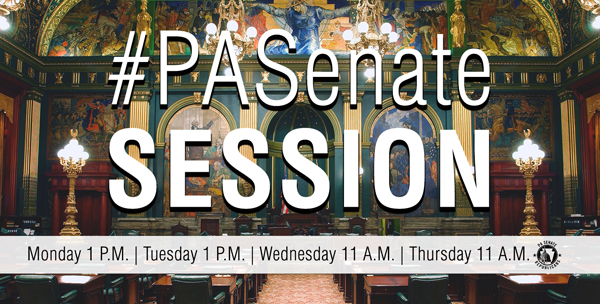 Bills for Possible Consideration
SB 60 (Phillips-Hill) – Expanding the definition of human trafficking under the Crimes Code to match federal law.
SB 67 (J. Ward) – Allowing Pennsylvania to adopt the Psychology Interjurisdictional Compact (PSYPACT) in order to increase public access to psychological services.
SB 74 (Martin) – Creating a tax credit program for qualifying donations to pediatric research hospitals.
SB 147 (Laughlin) – Providing for Sunday hunting.
SB 596 (Mensch) – Enacting the Pennsylvania Clean Transportation Infrastructure Act.
SB 637 (DiSanto) – Occupational licensure reform.
SB 842 (Phillips-Hill) – Removing a requirement for health care workers' ID badges to include an employee's last name.
SB 902 (Baker) – Amending the County Code to clarify succession for a First Assistant District Attorney (ADA) upon a vacancy of the office of District Attorney (DA) in certain counties.
SB 906 (Yudichak) – Instituting a moratorium on the scheduled closing of the Polk and White Haven State Centers.
SB 931 (Killion) – allow participating employers in the State Employee Retirement System (SERS) to pre-fund all or a portion of their unfunded actuarial liability.
HB 227 (Gabler) – Clarifying that all candidates for the office of School Director will be required to submit 10 signatures for nomination.
HB 305 (Snyder) – Directing the Department of General Services (DGS) to conduct an inventory of all state department, agency, commission or institution owned communication towers, poles, buildings, and facilities to leverage existing state-owned assets for the provisioning of high speed broad-band internet to unserved and underserved areas. 
HB 754 (Thomas) – Extending the current Social Security COLA moratorium until December 31, 2021.
HB 947 (Schweyer) – Providing consistency in hours of operations for breweries and distilleries.
HB 1410 (Stephens) – Amending the Transit Revitalization Investment District Act by providing for military installation remediation from PFAS use.
HB 57 (Fritz) – Abolishing various outdated boards, commissions, committees and other entities established by law and makes related repeals.
HB 917 (Schmitt) – Repeals Act 598 of 1929, an act authorizing municipalities, other than townships, to acquire, operate and maintain a hospital.
HB 1203 (Ryan) – Increasing the auditing standards that Municipal Authorities must comply with.
HB 1402 (Nesbit) – Creating a new criminal offense of sexual extortion.
HB 1547 (Pyle) – Designating various highways and bridges (omnibus).
HB 17 (Ryan) – Providing for statute of limitation for collection of assessed taxes and for period of limitations on criminal tax prosecutions.
HB 956 (Murt) – Amending the State Lottery Law further providing for powers and duties of the secretary relating to the mandated margin rate of return.
HB 97 (Rapp) – Prohibiting the sale of vaping products to minors.
HB 962 (Rozzi) – Amending the Judicial Code regarding civil and criminal statutes of limitations for child sexual abuse, and providing for waivers of sovereign and governmental immunity relating to claims of childhood sexual abuse.
HB 963 (Gregory) – A Joint Resolution amending the Pennsylvania Constitution to provide for a two-year window in which an individual may file a civil action alleging childhood sexual abuse
HB 1051 (Stephens) – Further providing for penalties for failure to report suspected
child abuse by mandated reporters.
SB 146 (Brooks) – Providing for online training for firefighters through the Office of the State Fire Commissioner.
SB 456 (Bartolotta) – Amending the Private Licensed Schools Act concerning multibranch training schools and other issues.
HB 49 (Brown) – Requiring public schools to allow students to apply credits earned through courses in personal financial literacy to satisfy graduation credit requirements.