Governor Wolf Unveils Massive Tax & Spend Budget Proposal
Governor Wolf Unveils Massive Tax & Spend Budget Proposal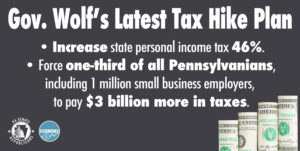 Governor Tom Wolf unveiled his proposed $40.2 billion General Fund Budget for Fiscal Year 2021-22, which includes a massive increase in state spending, a substantial personal income tax rate hike, imposition of natural gas extraction tax, and elimination of funding for broadband expansion as well as vital agricultural and health programs and services.
The proposed FY 2021-22 Budget includes a $3.1 billion increase in state spending from the current fiscal year, the largest increase in history.
The governor wants to increase the state personal income tax (PIT) rate from 3.07 percent to 4.49 percent (a 46.3 percent hike) as of July 1 to raise $3 billion annually. About one-third of all Pennsylvanians, would see their state tax burden increase under the Governor's proposed PIT rate hike.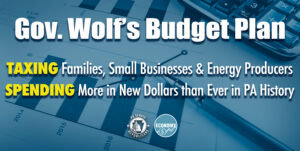 Upwards of one million PA small businesses will have their tax rates increased by 46.3 percent under the Governor's proposal, since these pass-through businesses (i.e. S corporations, partnerships, etc.) pay business taxes at the PIT rate.
This proposed PIT rate increase coupled with the governor's ongoing COVID-19 restrictions and his proposed minimum wage hike would be devastating for many family operations that are already struggling to stay financially solvent.
The governor is again making his annual push for a natural gas extraction tax. This proposal would severely impact the gas industry. Pennsylvania saw a $50 million reduction in its impact fee revenue, according to the latest Independent Fiscal Office report.
He is also proposing a $168 million plan to augment funding to the State Police by charging all municipalities for police services regardless of municipal coverage.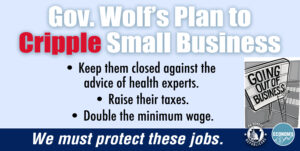 While the governor is calling for a major spending increase in several budgetary line items, he is also planning to eliminate $5 million in state funding for broadband expansion, even though the funding is mandated by Act 132 of 2020 (Senate Bill 835), as well as millions of dollars for agricultural programs and health care services.
The plan will be reviewed by the Senate Appropriations Committee, after which Senate Republicans will offer their own proposed state budget.
Senate Republican Leaders Strongly Oppose Governor's Massive Tax and Spend Budget Plan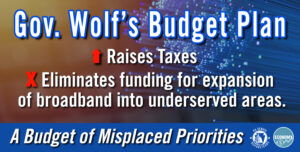 Senate Republican leaders called Governor Wolf's massive tax and spend budget proposal "dead on arrival" in the Senate, saying it is out of touch with Pennsylvanians and small businesses that are struggling to survive during the COVID-19 crisis.
Senate President Pro Tempore Jake Corman (R-34), Senate Majority Leader Kim Ward (R-39) and Senate Appropriations Committee Chair Pat Browne (R-16) said his plan to increase spending by more than $3 billion – the largest proposed increase in history – is unacceptable and could further hurt the state's struggling economy. His personal income tax hike would increase the amount of state tax paid out of many Pennsylvanians' paychecks by a staggering 46 percent, at a time when many residents are barely making ends meet. They offered the following statements on the budget.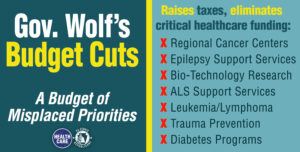 Senate President Pro Tempore Jake Corman (R-34): "This proposed budget shows the disdain Governor Wolf and his Democrat allies have for middle-class families and the small businesses that employ them. Calling this a tax cut is laughable and an affront to small employers and other Pennsylvanians who have struggled to stay afloat under the Wolf Administration's misguided, arbitrary and authoritarian edicts. The big box stores do not care about increases to the personal income tax or the minimum wage. The mom-and-pop stores will bear the brunt of this proposal. Small employers and middle-class families are what drives economic recoveries. Governor Wolf has put yet another target on their backs."
Senate Majority Leader Kim Ward (R-39): "Governor Wolf's progressive tax proposal is exactly what we predicted. Increasing taxes on productive Pennsylvanians. Doing this after closures and restrictions have already devastated our economy is absurd."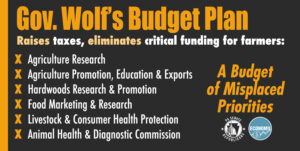 Senate Appropriations Committee Chair Pat Browne (R-16): "The Governor could not have picked a worse time to propose a 46.3 percent increase in the personal income tax given the struggles Pennsylvanians continue to face during the worst pandemic of our lifetime. This major tax increase and massive spending plan will devastate working families and small business owners, many who already cannot afford their current tax burden, are unemployed or have been forced to close their business. Now more than ever, we need to develop a budget that is fiscally responsible and that helps keep businesses open and employees working, creates jobs and rebuilds our economy."